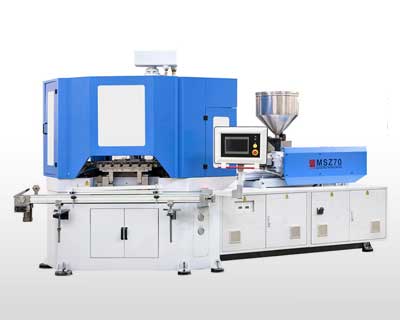 MSZ70 Injection Blow Molding Machine


Both perform and blow station use 3-cylinder clamping unit, mold open speed high, production high capacity.
Dual hydraulic system with servo pump drive, more precision control on clamping, and energy saving more than 25%.
Horizontal injection design, plasticating reliable and easy operation.
Triangular beam make the structure strong and more stable perfrmance.
Servo rotation device: improve rotate positioning accuracy.
Electric preplastication, can be synchronization in plasticising.
Pneumatic stripping plate, safe and clean.
Linear guide beam, small resistance, high precision.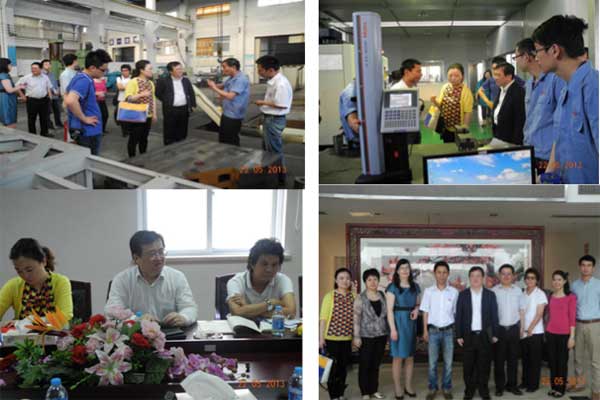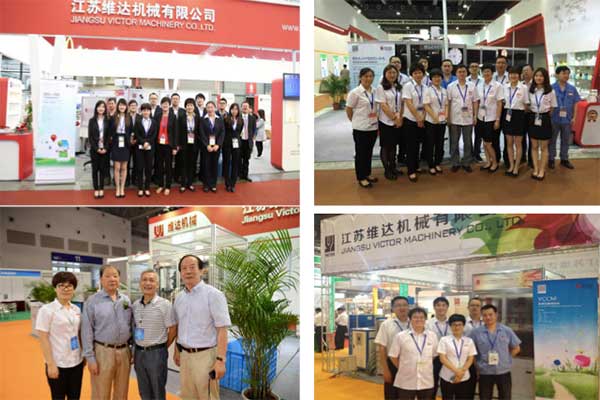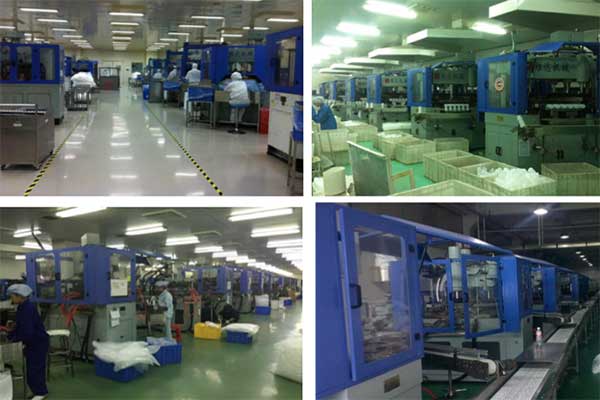 Machine advantage:
Clamping parts: special designed single crossbeam dual-cylinder balance clamping system, for fast opening and closing mold while ensuring uniform distribution
Rotation mechanism: unique rotating mechanism design, and equipped with automatic lubrication system,ensure rotation precision be consistent.
Injection components: Alternative efficient plasticizing mixing screw, optimization of the injection unit,improve the injection stability and accuracy in ensuring
Hydraulic system: Equipped with electro-hydraulic servo system, the machine is running stable, low noise, high response and energy saving of 25% to 45%
Rotation mechanism: unique rotating mechanism design, and equipped with automatic lubrication system,ensure rotation precision be consistent.
This machine has used the European standard injection blowing mode, which has absorbed the advantages of domestic injection.
1. It is one step injection blowing machine, the raw material is PP/PE/PS pellets, no need preforms.
2. One Mold with Multi-caivity based on your required bottle size, using three horizontal station rotary device, hot runner system and multi-stage injection molding system,injection molding, blow molding, demolding three position and action to ensure equipment of high efficiency and energy saving operation.
3. Compared with the blow molding machine, the quality of the bottle neck made by thus machine is better, and it no need waste raw material.
4. Close mould cylinder, ensure product cleaning. The clamping force of the clamping force on the internalbalance, uniform.
5. Decreased the Machine height for easy assemble the mold.
6. Unique hydraulic servo system, reasonable layout of the pipeline, so that the machine is running high efficiency and energy saving.
7. The unique structure of the boost lock structure increases the clamping force and reduces the energy consumption of the system.
8. With servo system to control the mold rotary & increase rotary accurancy and reduce the dry cycle time.
Special double cylinder horizontal valve plate superimposed injection system, so that the injection, storage more smooth and fast, beautiful appearance, Special plastic components, to meet the requirements of different products, multi-level injection, pressure projection.
9. Internal layout optimization, equipment maintenance,maintenance more convenient.
10. Release the digital sensor detection, and increase the mandrel rotary detection function, realize the unattended, automatic operation.
11. Optional air conditioning mandrel function, shorten the product cooling cycle,solve the problem of sticking mandrel.
12. The conveyor belt can be connected with the visual inspection, Leakage Thester labeling and other equipment.
Injection system
Unit
MSZ70
Screw Diameter
mm
50
50
Screw L/D
23:1
23:1
Injection weight(HDPE)
g
298
360
Max.screw speed
rpm
10-235
Heating capacity
KW
10.8
Clamping system
Clamping force of injection
KN
750
Clamping force of blowing
KN
89
Max.Platen size(L*W)
mm
800×390
Min.Mold thickness(H)
mm
280
Heating capacity of mould
KW
6
Stripping system
Stripping stroke
mm
270
Dry cycle
sec
3.5
Driving system
Motor power
KW
30
Hydraulic pressure
Mpa
15
Product range
Suitable bottle range
ml
5-800
Max.bottle height
mm
≤220
Max.Dia.of bottle
mm
≤100
Others
Min.Air pressure
Mpa
1.0
Discharge rate of compressed air
M³/min
≥0.8
Water flowage
M³/h
5
Total rated power with mold heating
KW
46.8
Dimension(L*W*H)
M
4.06×1.8×2.45
Net weight
ton
9